Cutting through the confusion surrounding projects currently in production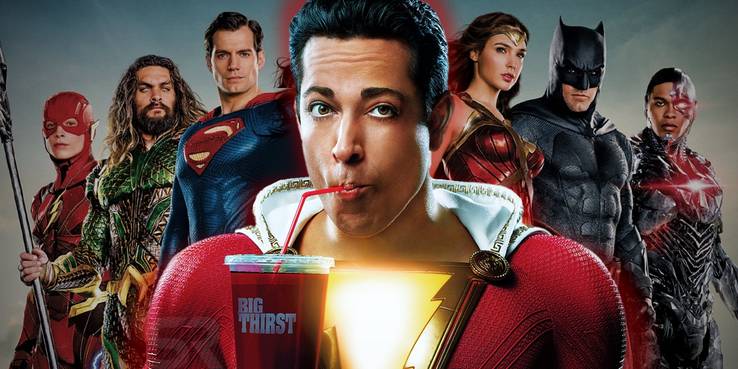 It is no secret that the DC Extended Universe has been struggling since its conception. The films have opted for a darker tone than their competition, have had way more studio involvement and ultimately have not been received well.
Currently consisting of seven different films, only three have been well received. This has caused Warner Bros. to change up the scheduling of the films, making it really hard to follow what is in the works.
With reboots and sequels planned, actors dropping out and constantly shifting release schedules, the DCEU can be very confusing to follow.
So, to make it easy, here is the currently confirmed movies and their release dates, but note that this could all change at a moment's notice.
'Joker'
A solo origin film for everyone's favorite comic book villain, "Joker" is coming out Oct. 4, 2019. Currently, we have only one trailer for it, and it actually looks really good.
The strange thing about this film is that instead of starring Jared Leto, technically the official DCEU Joker, whether people like it or not, this film will star Joaquin Phoenix as the titular character.
This may be confusing as the Joker may be played by two different people, but what makes this film unique is that it will actually not be a part of the connective narrative of the DCEU. It is one of several planned films that will take place outside of the DCEU in their own separate universes.
This could be really good, but it could also be a sign that maybe DC does not have as much faith in their film universe as Marvel does in theirs.
They are making disconnected films instead of putting all their resources into making their cinematic universe stronger, which we will have to wait and see if it will pay off in the end.
'Birds of Prey (and the Fantabulous Emancipation of One Harley Quinn'
One of the best parts of the widely panned "Suicide Squad" was Margot Robbie's Harley Quinn. So, it only makes sense they would try to keep her on.
Coming out Feb. 7, 2020, this film will feature Black Canary, Huntress, Cassandra Cain, Renee Montoya and Harley Quinn as they rage war against the evil Black Mask.
The cast looks to have a lot star power behind it with Margot Robbie and Ewan McGregor. Alongside them will be Jurnee Smollett-Bell, Mary Elizabeth Winstead, Ella Jay Basco and Rosie Perez.
This will be the first all-female team movie in either the MCU or the DCEU. It will hopefully be upbeat and fun.
So far, all we have is a short little teaser of Harley Quinn, but it does look compelling. This film will be in the DCEU unlike "Joker."
'Wonder Woman 1984' and beyond
One of the very well-received DCEU films is "Wonder Woman," so it is no surprise that it has sequels planned.
Principal photography for the sequel "Wonder Woman 1984" wrapped last year, and the final product will release June 5, 2020. However, we have not received any trailer yet.
The director of both installments, Patty Jenkins has stated that she hopes she can complete a trilogy and make "Wonder Woman 3." Nothing has been confirmed or denied, but it's a high possibility that "Wonder Woman 3" will get greenlit at some point.
These two films will most likely also exist in the DCEU.
'Flashpoint'
The Flash has not received a solo outing yet and was rumored to get one in 2018 before being pushed to 2020. However, due to scheduling issues and trouble finding a director, the movie has been pushed back again. It is rumored now to come out in 2021, though it could see further delays.
Co-directed by the guys who co-wrote "Spider-Man: Homecoming," this film is rumored to have the Flash, played by Ezra Miller, alongside some of his Justice League buddies (and possibly even more speedsters) venturing through alternate dimensions and time itself.
This could be a way to reset the DCEU with the exit of both Henry Cavil's Superman and Ben Affleck's Batman or just a fun little Flash adventure.
It will be awhile until it releases, so until then, you can go watch the television version of the character on the CW.
'The Batman'
Ben Affleck was originally set to write, direct and star in a standalone Batman film. However, that fell through over rumors of creative differences between Affleck and the studio.
Director Matt Reeves has since taken over production, and the movie has become a high priority for the studio. A final script has been turned in, and filming is supposed to begin in November.
This film is rumored to be a detective story with a noir aesthetic, so it should be interesting. There is no confirmation if this is set in the DCEU or if it will be another film separate from it.
'Aquaman 2'
One of the other well received DCEU films was "Aquaman." Who knew a fish man could be cool?
The film has become the most successful film worldwide based on a DC property, so it makes sense that the studio is trying to get James Wan back to direct a sequel. Wan is open to another film, but only if there is a good script behind the project.
It will most likely get a sequel and be part of the DCEU, so we will just have to wait and see.
'The Suicide Squad'
James Gunn, the director of both Guardians of the Galaxy films, is working on a soft reboot of "Suicide Squad" titled "The Suicide Squad."
Focusing on a new iteration of the team with Viola Davis returning as Amanda Waller and Idris Elba joining the cast, this film could be great.
Not much else is known about the team or when this will come out, but if Gunn is behind it, it could be really good.
Rumors
DC also has many confirmed and rumored films in production. They have announced plans for movies featuring Batgirl, The New Gods, Supergirl and Plastic Man.
Plans for "Gotham City Sirens" were put on hold to focus on "Birds of Prey," and "Justice League Dark" has gone through two directors since being rumored in 2012.
Dwayne Johnson's long rumored "Black Adam" will most likely become a priority after the success of "Shazam!" which already has a sequel officially in the works.
Michael Bay may also be directing a Lobo movie, and there were talks about a Jared Leto Joker movie, though that may not happen anymore.
Then there are also the previously announced films that have not received any more news. "Cyborg," "Deadshot," "Nightwing" and "Green Lantern Corps" were all once in production.
This is everything we know about DC's plans for now. It is not as thought out or organized as the MCU, but Marvel also has 22 movies to DC's seven, so there is time to grow and learn.